Franz Bardon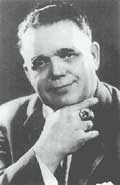 Franz Bardon Franz BardonFranz Bardon (December 1, 1909 - July 10, 1958). Czech occultist best known for his three volumes on Hermetic magic. These volumes are Initiation Into Hermetics, The Practice of Magical Evocation and The Key to the True Quabbalah. Additionally there was a fourth work attributed to him by the title of Frabato the Magician, supposed to be a disguised autobiography, though the factuality of its contents and its authorship are questionable.
Bardon's works are most notable for their simplicity, their relatively small theoretical sections, and heavy emphasis on practice with many exercises. Many consider him to have written the best training programs of any magician of the 20th century. They were written with the intention of allowing students who wished to practice magic the means to do so if they could not study under a teacher (which Bardon recommended if possible).
Free Ebooks by Franz Bardon
It has come to our attention that we may have been infringing on the rights of the official publisher of the Franz Bardon books by hosting the Franz Bardon ebooks on our site. As it is but proper to comply with all existing laws regarding copyrights and such, we have removed the Franz Bardon ebooks from our site. Apologies to all for the inconvenience.